Spoon University, founded in 2012, is an online collegiate food publication and community with chapters across the country. Northwestern's Spoon chapter is currently the only one with a print magazine. As Creative Director of the publication, I lead a team of 11 designers and oversee the production of 2 yearly issues.
I work with the editorial director to coordinate the magazine's layout and pagination. On the design side, I developed a style guide for all designers to adhere to, and worked with my co-director to assign pages and lead feedback sessions.
​​​​​​​​​​​​​​
Spring 2021 Issue: Farm to Table
This feature on urban farms in Chicago focused specifically on Growing Home, a local nonprofit organization. The photos I worked with all conveyed a sense of growth and community, which ​​​​​​​I tried to highlight through color blocks, typography, and photo collaging elements.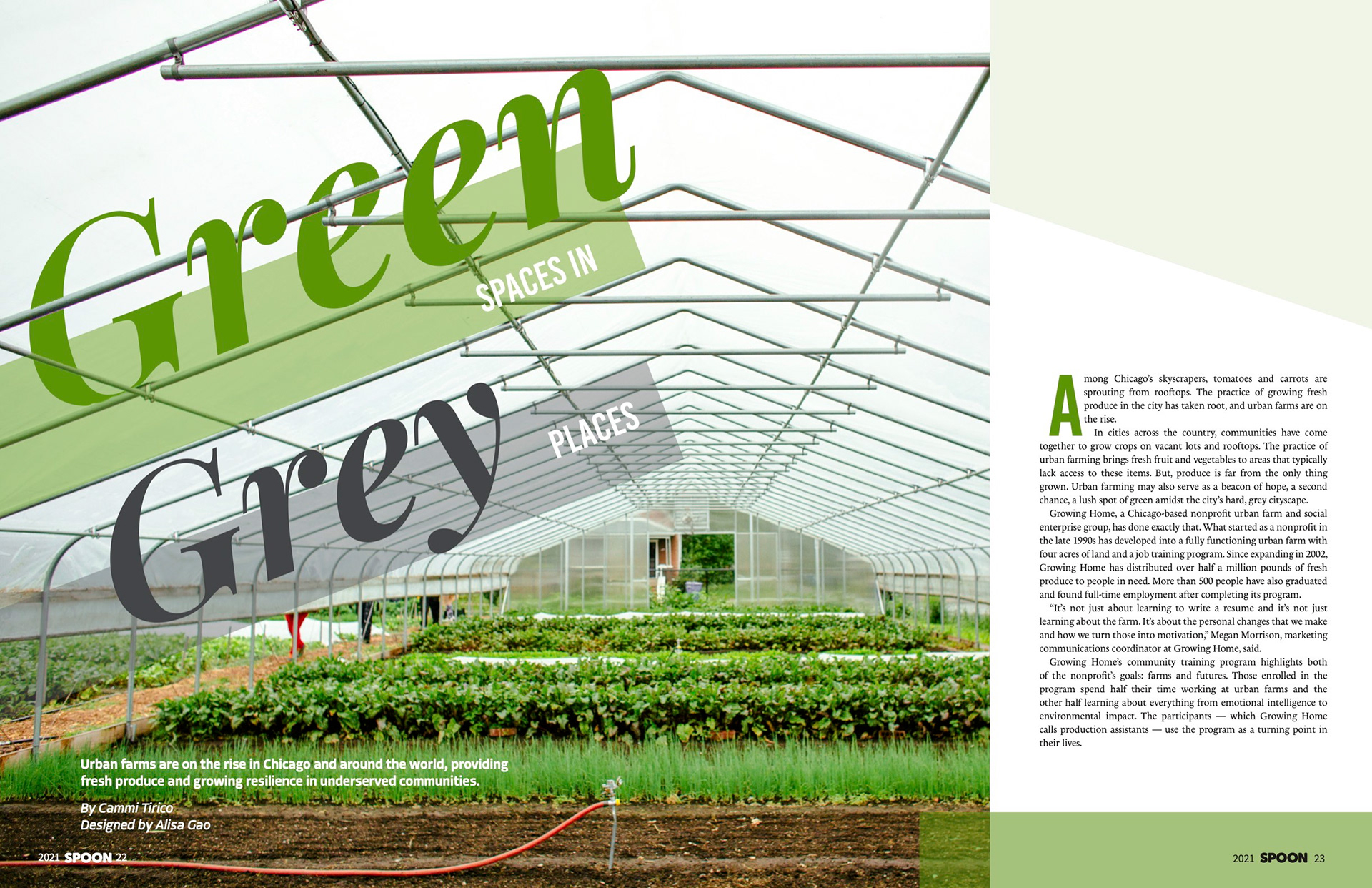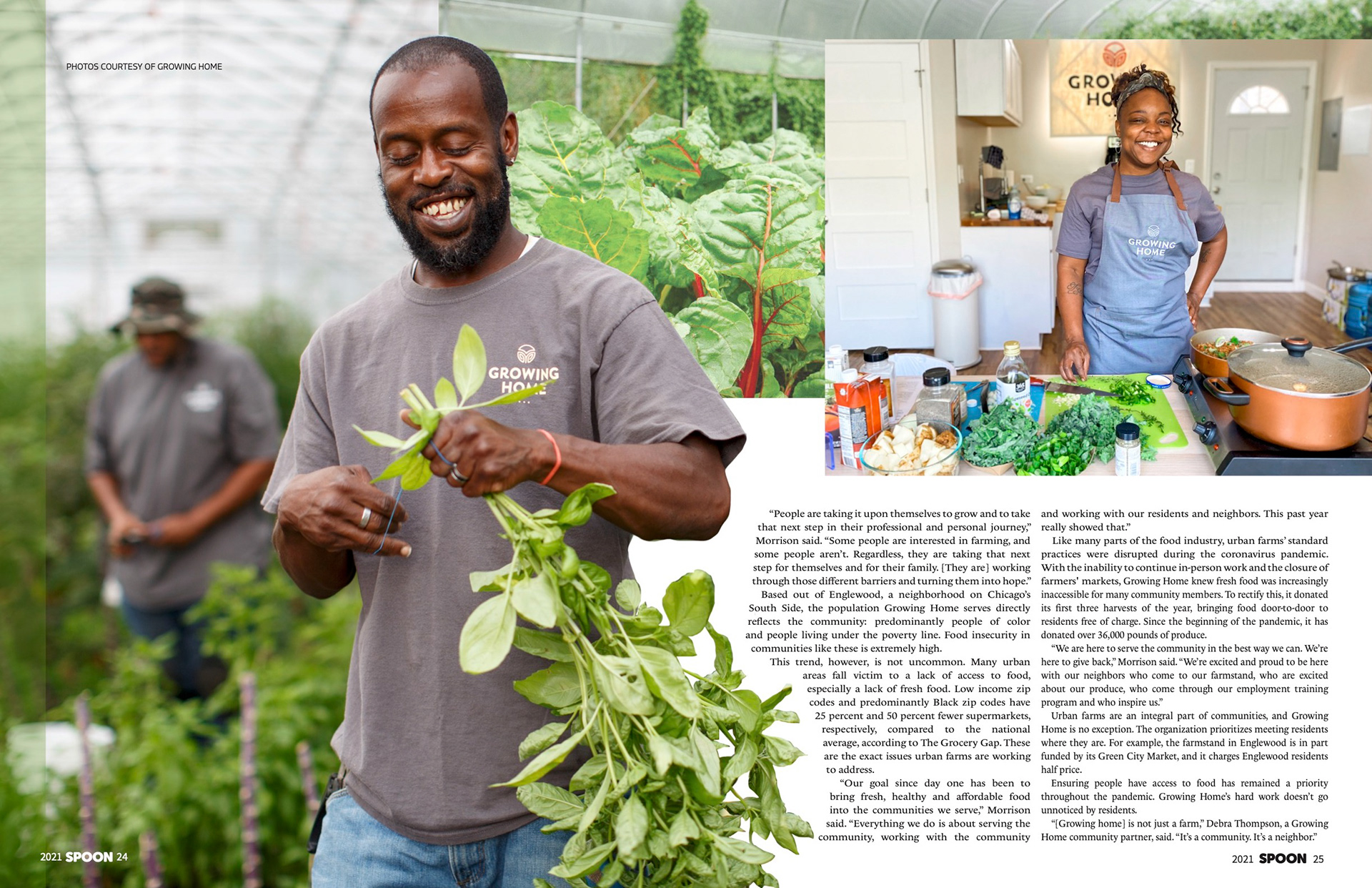 Because we worked with such a large design staff, our goal was to create a clear style guide and vision that would establish a cohesive visual theme throughout the magazine. I set guidelines for title and section fonts as well as page borders, which immediately creates an identifiable look. Because Spoon is a food magazine, we also encouraged designers to utilize photos to their full extent and have them stand out on the pages.
​​​​​​​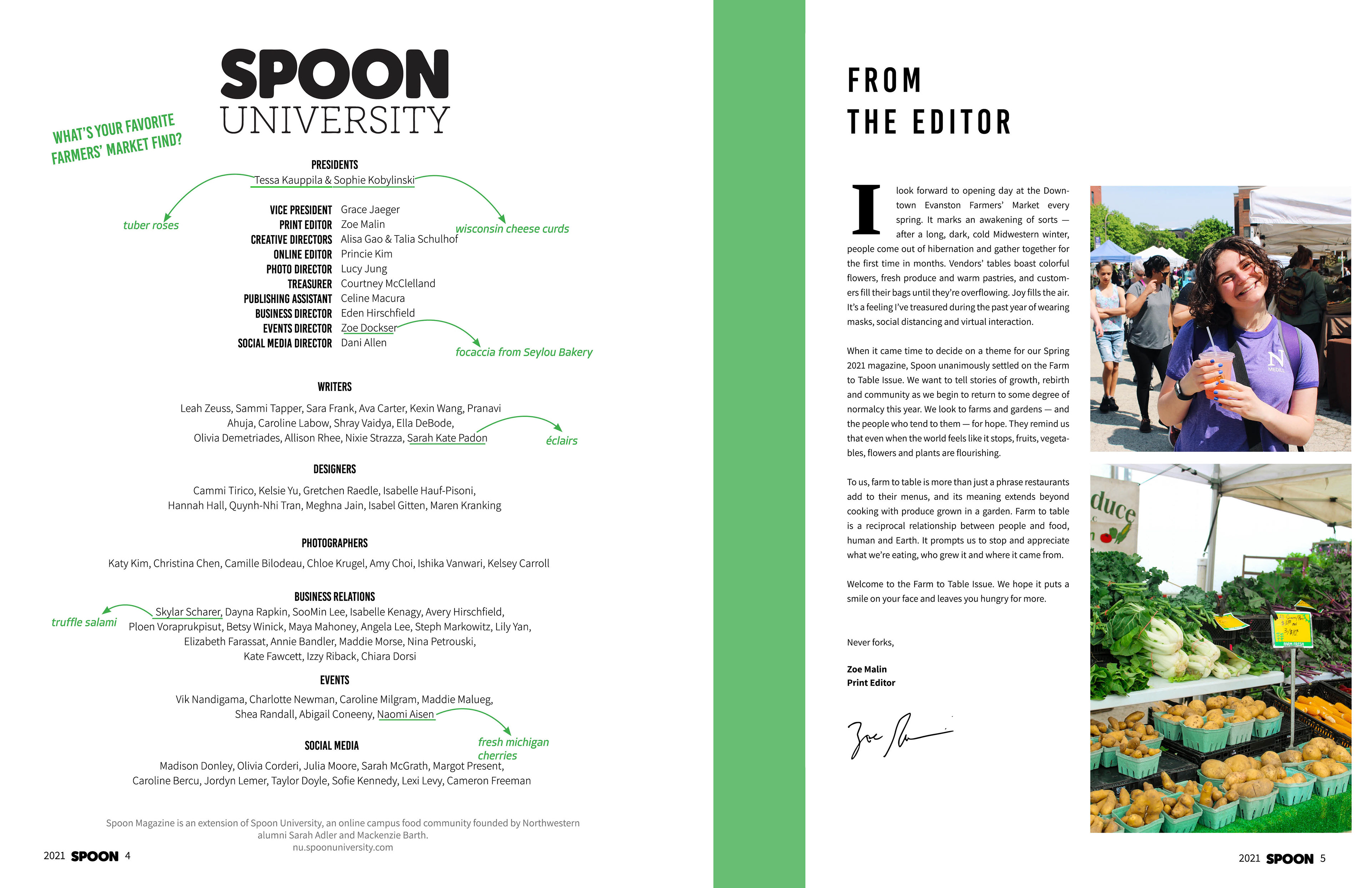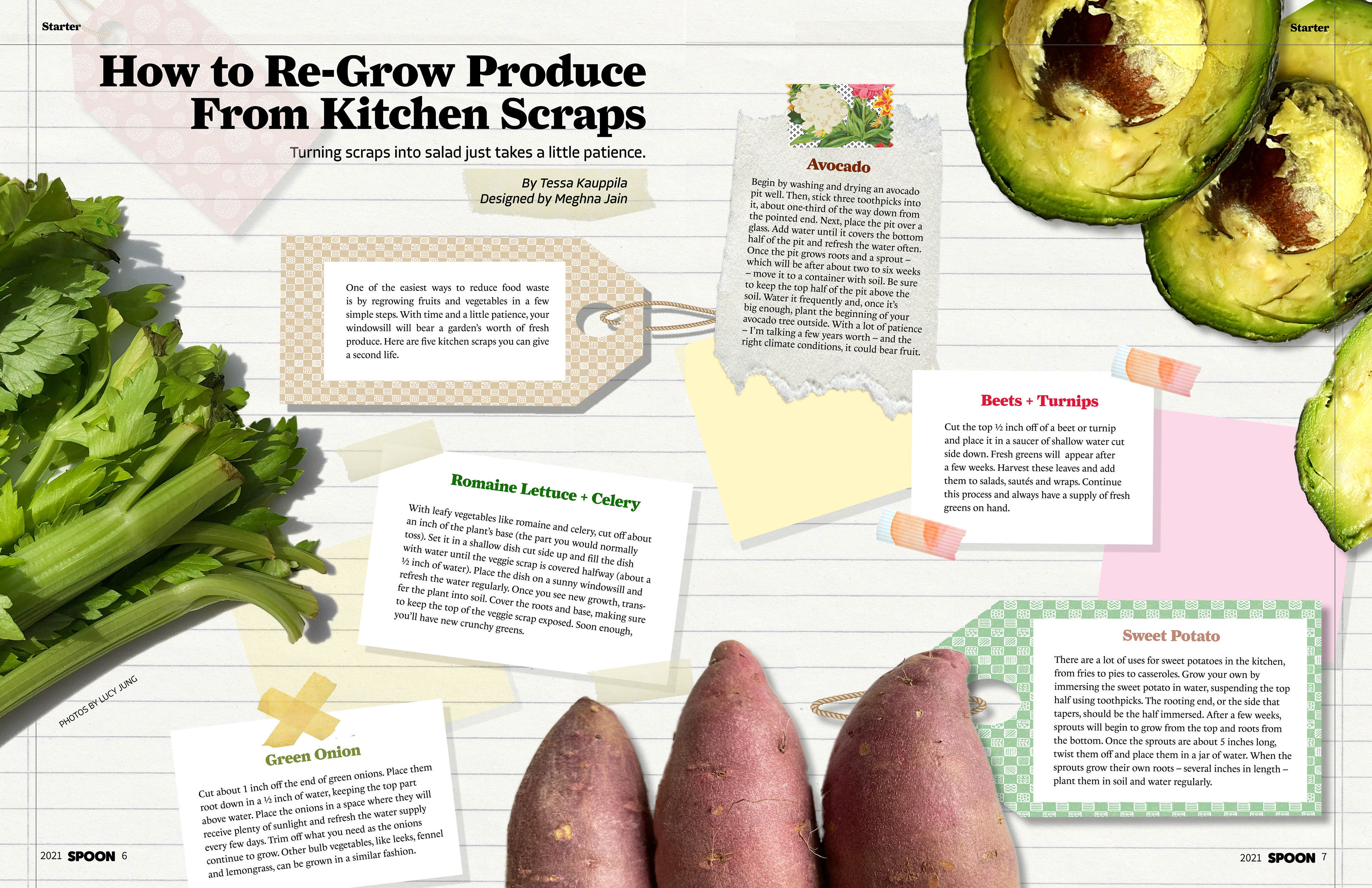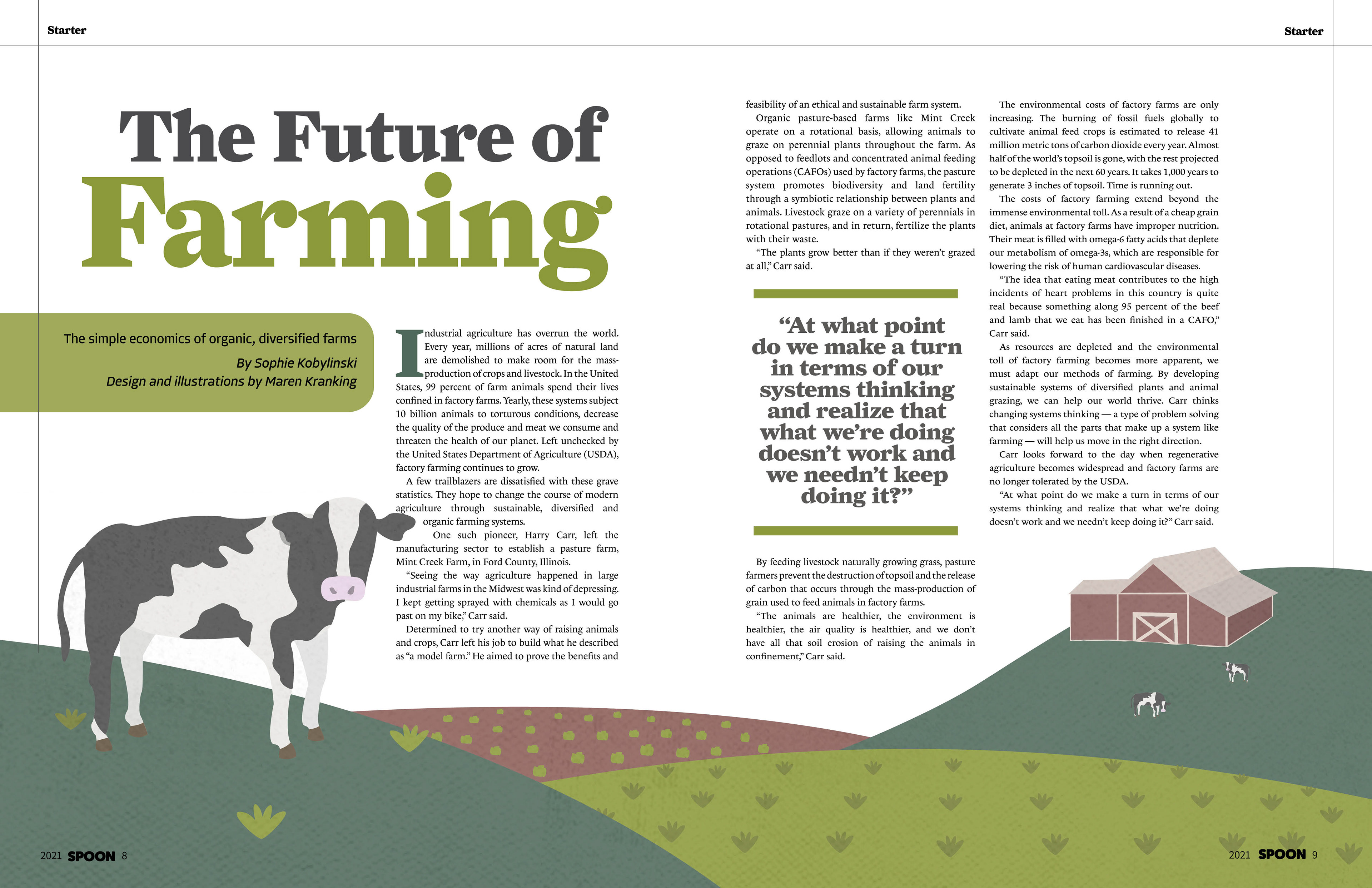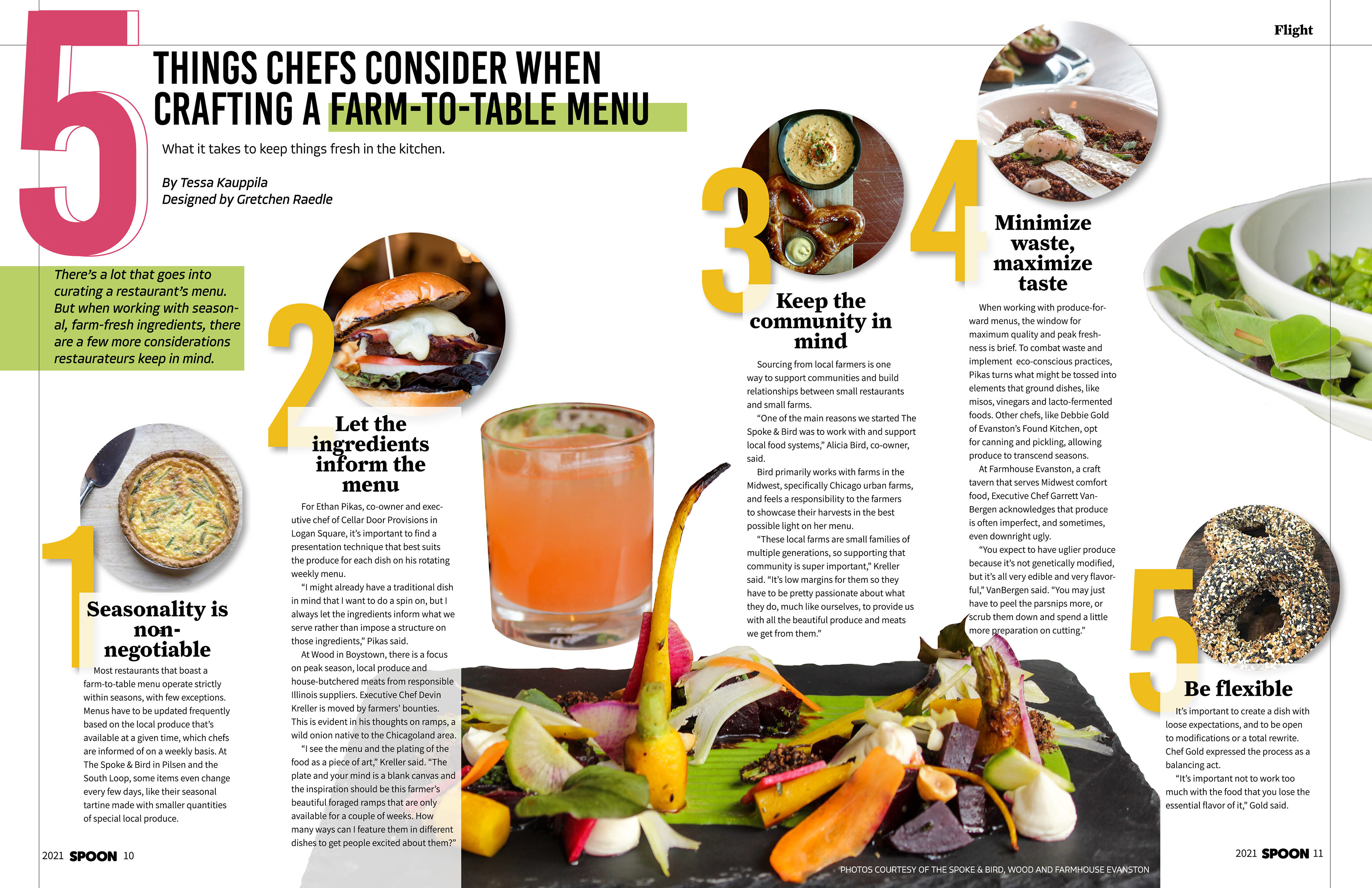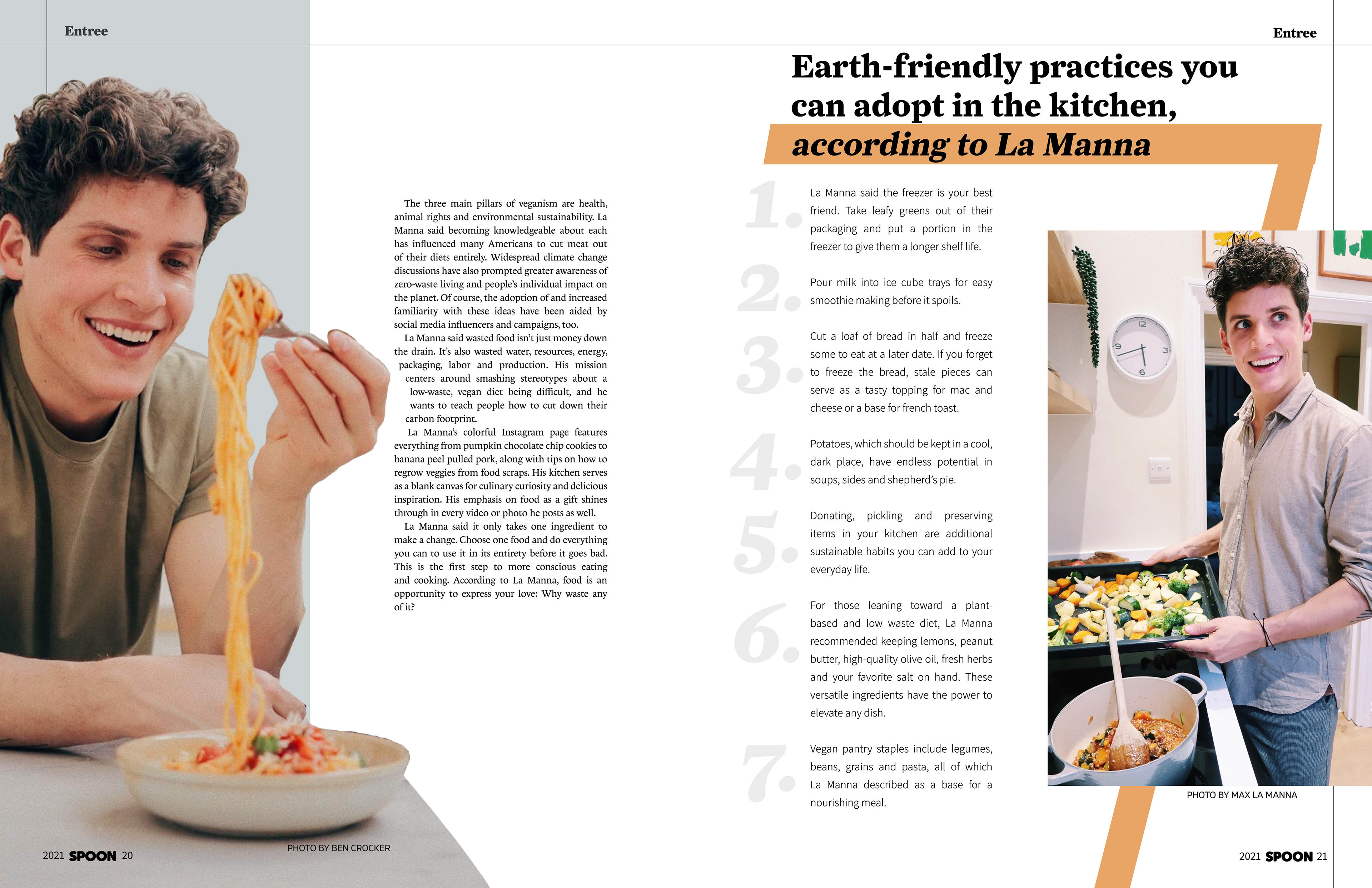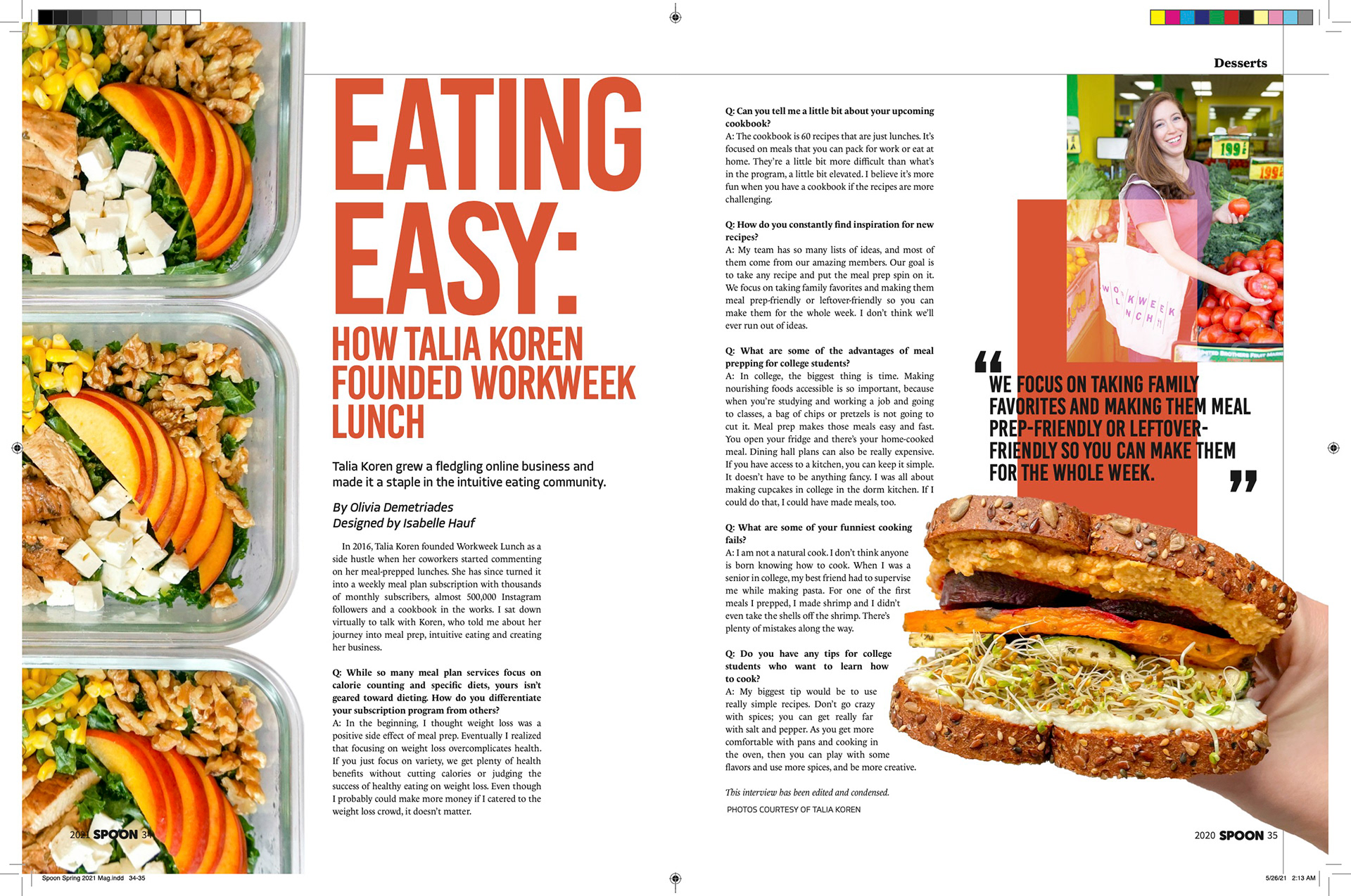 Winter 2021 Issue: Comfort Food
Keeping in mind the theme of "Comfort Food," I decided to commit to a hand-drawn look inspired by past covers of Washingtonian Magazine and Chicago Magazine. We decided that the photo of Chicken Shack, a local Evanston staple, would best convey the theme. 
On the third page, I designed a map of where Spoon members were located in the fall. Given the remote quarter, I thought it would be interesting to see the diversity of places where members grew up/live.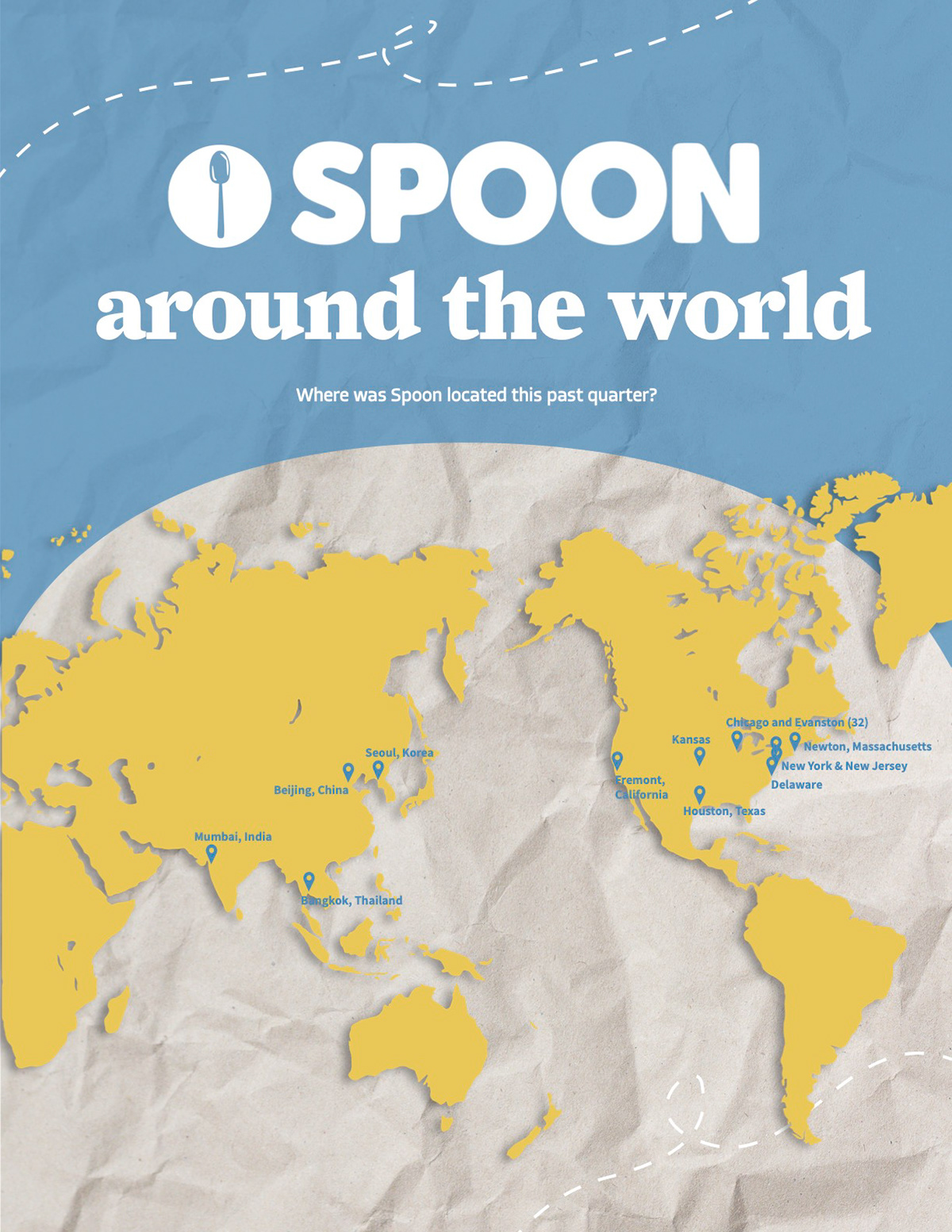 Kimchi feature and photo direction
I chose to design this story because as an Asian American, I resonated with the experience of having to come to terms with my cultural food growing up. I enjoyed the striking look of reds and oranges on a black background, and incorporated this throughout the two spreads.
I also got a chance to direct a photoshoot for this story. Since I really wanted to incorporate the imagery of red on black in these spreads, I worked with my photographer to create eye-catching photos showcasing the dish.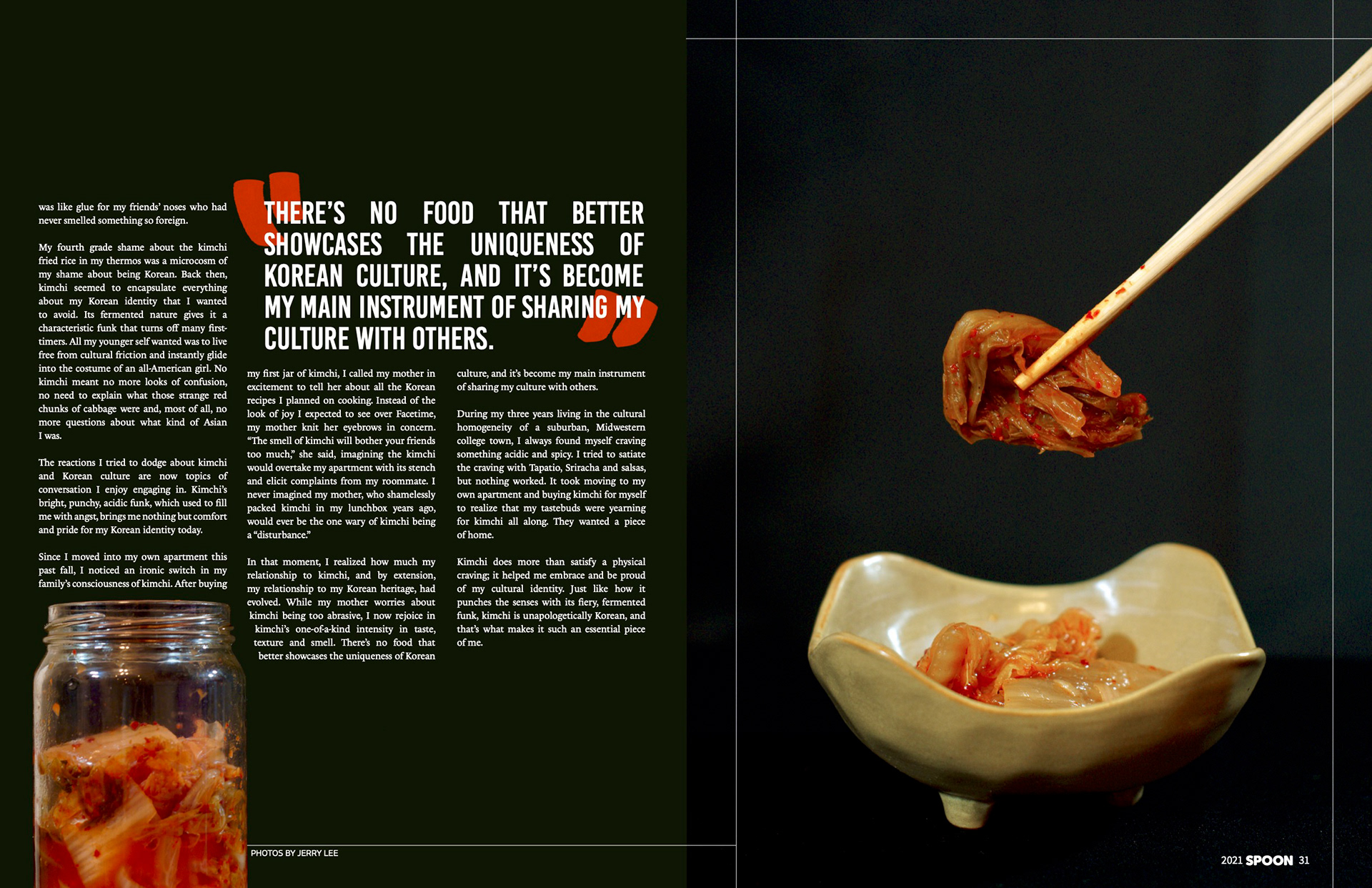 Creative Direction
​​​​​​​